Electronics and Control Systems
MaestroShield's electronics put the beauty of your indoor shading, outdoor screening, and hurricane and security systems into motion. Our state of the art electronics support low data rates, low power consumption, security and reliability. With a multitude of programming options, you have the convenience of total control and the quality assurance, technical support, and innovation that is the cornerstone of every MaestroShield product. MaestroShield motors and electronics are innovation at its best. Designed in-house by Swedish and American engineers, these industry leading components are the perfect marriage of power, precision and integration. With multiple configurations available, the agility of our motors and electronics puts them in a class of their own. Designed and tested with quality in mind MaestroShield motors and electronics will greatly enhance your shutter, door, screen and shading applications. These are only some of the reasons why MaestroShield is superior to the competition in tubular motors and electronics.
Remote Transmitters
1 Channel |6 Channel |16 Channel Hand Held and Wall Mount
Easily programmed coded channels for unlimited group or zone control
6 channel and 16 channel remotes have an extra channel to control "All" channel
Hand Held remotes come with a wall mount cradle
Wall Mount remotes come with a white face plate
16 channel remote can block out unused channels
Key Chain Remote Control with all features of 1 channel hand held
Hard Wired Key Switches
These momentary switches can be used to lock and secure the operation of any tubular motorized unit. Available in surface mount or flush mount, comes with two sets of keys, and can be integrated with MaestroShield's wall mount receiver and all other MaestroShield electronics.
Momentary Switch
For precision opening or closing of your shutter, screen or shade by holding up or down switch and releasing at desired height.
Maintain Switch
For continued opening or closing of your shutter, screen or shade to the next preset stop with a single touch.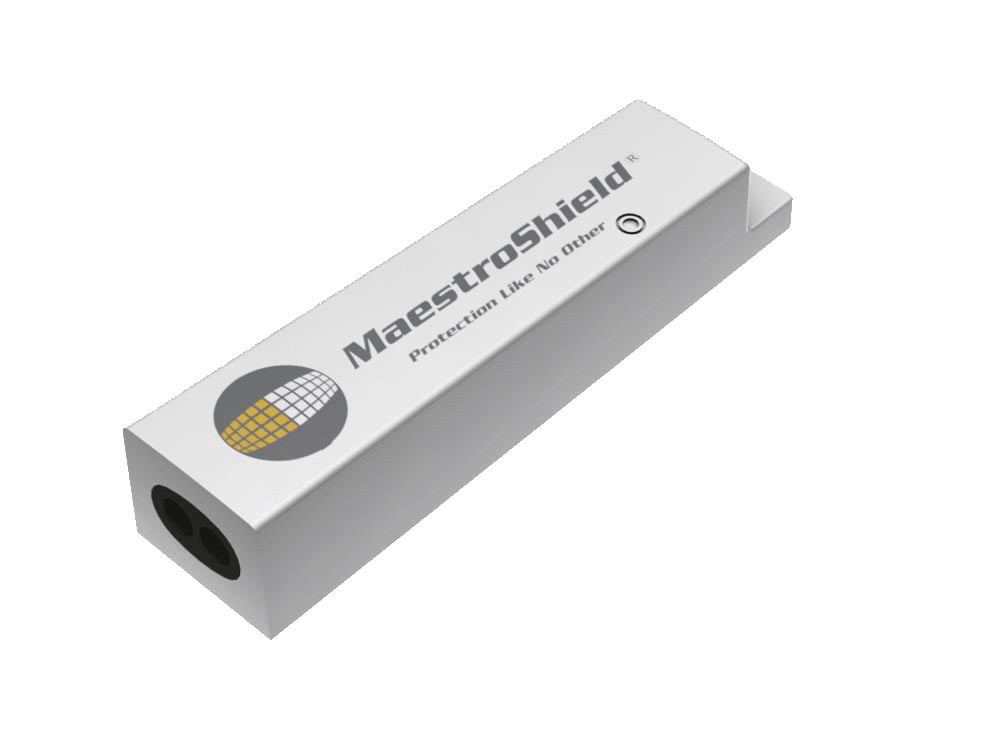 Mini Receivers
This high tech product conveniently tucks into any space and works as both a junction box and an external buffer between the motor and the power source, providing an additional layer of protection against power surges or spikes. It has been designed to mount inside of the hood assembly, wires facing downward and to communicate effectively with all MaestroShield brand remote controls. With a frequency of 433.92 Mhz, a 160 ft. / 50 meter transmission range* and weather resistance, the Mini Receiver accommodates all styles and series of tubular motors. There are 12 volt, 110 volt and 220 volt versions that are compatible with all MaestroShield motors.
Wall Mount Receiver
Single Channel Wall Mount, hard-wired Convenient single button control directly on the receiver, or integrate with remote transmitter and/or key-switch to lock and secure your system.
Home Automation System Interface
With the Home Automation System Interface, your MaestroShield Electronics can communicate directly with your home automation system, such as Control 4 and Crestron, increasing the flexibility of control for your system from a central control unit, over the internet or from a cell phone app.
The MaestroShield Universal RF-Interface is used to integrate third party home automation systems, such as Control 4 & Crestron, with MaestroShields RF motors and receivers
Operated via RS232 serial communication.  After a RS232 input signal is received a RF signal will be sent to programmed devices
Devices can be operated in groups or in single mode
Integrates with MaestroShield's full line of electronics for complete automation of your screen and awning systems, hurricane and security shutters, and interior shading.
4 Channel Motor Synchronizer
Allows up to 4 motors to be controlled using one hard-wired momentary switch. All motors will operate in the same direction simultaneously without electronic interference from the limits. The synchronizer eliminates crossed signals when connecting multiple motors to a single switch, allowing advanced configurations.
Power Distributor Board
Powers up to 10 DC motors
Want More Info On Our Products?
Fill out the form to the right in order to receive a callback
[contact-form-7 id="334" title="Free Quote"]
[contact-form-7 id="131" title="Contact Page Form"]