Our Colonial Shutters surpass the Florida Building Code HVHZ/non-HVHZ, the international building and residential codes and the Texas Department of Insurance code requirements. Practical, effective and convenient protection meet an aesthetically pleasing home addition with our Colonial Shutters will enhance the appearance of your home while providing superior hurricane protection against high winds and flying debris. Their ease of use makes them an ideal choice for ground level and upper floor window openings. The new sliding mount makes 2nd floor operation quick and easy from the inside and when open, lends your home the decorative beauty of traditional shutters. Our Colonials can now incorporate the articulating blades from either our Bahamas Shutters for unique applications and to enclose outdoor living areas.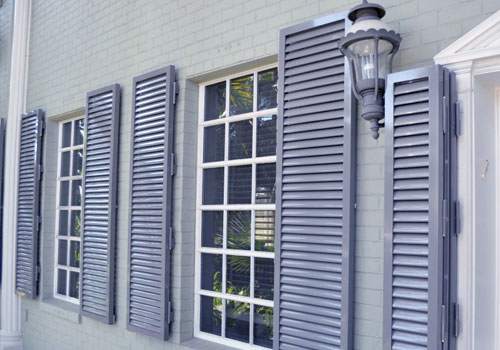 Colonial Shutters Benefits
All HVHZ/non-HVHZ, as well as Texas Dept of Insurance evaluated

Attractive Design

Butt Jointed Corners for Superior Strength and Paint Adhesion

Colonial Hollow & Solid Blades span—up to 38"

Rapid installation for Colonials with just one screw in each corner

Colonials can read heights of 12' tall by adding anchorage

Standard colors: Mill and White. (Custom colors are special ordered)
Are you looking for more information about our products? Request a Callback!
Error: Contact form not found.