Aluminum Accordion Shutter Hurricane Protection
When it comes to protection, we offer a full range of Eyewall Armor TM hurricane -rated products from Storm Panels to a wide variety of Decorative Shutters that protect and enhance your property. Our shutters are an investment in the value of your property, and the protection of your family, home, and business and can span up to 15.6" in height, and wind speeds in excess of 300mph (300psf).
.6.8 system (typically residential)

SL (Streamline) system (typically residential)

HR System (High-Rise) (typically commercial)
All HVHZ/non-HVHZ and IBC/IRS ASTM rated.
Accordion Shutter Benefits:
The only hinge that can be lubricated

Offset screw boss design for easy lubrication

Added property value

Corrosion-resistance

Easy maintenance and care

Long-term durability and performance
Minimally intrusive versus competition

Tightest stacking shutters

Design covers most openings

Fast and simple, one-step locking

No added locking rods required

Color choices: White, Ivory, Beige, Bronze
All Eyewall Armor® Accordion Shutters have been designed with a patented offset screw boss that isolates the assembly screw from the hinging of the shutter blades which minimizes "hinge corrosion" which is the most common failure mode of all other accordions. The assembly screws can be easily lubricated, ensuring continuous and reliable operation and protection when you need it most. Eyewall Armor® Accordion Shutters offer the easiest and fastest one-step locking procedure in the industry. No additional locking rods or devices are required. They are also the tightest-stacking shutters on the market today and are virtually undetectable on your home.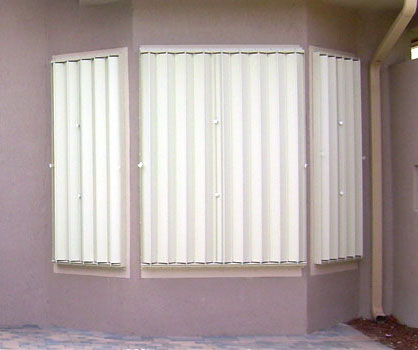 The Eyewall Armor® 6.8 Accordion set the standard for how accordion shutters should be designed. All previous accordion shutter designs were inefficient and had limited life spans, some needing replacement in as little as 4 years. The combination of the offset screw boss and superior coatings makes this family of accordions the most durable and long lasting available in the market today. The 6.8 is our "Mid-Rise" accordion meaning it has been designed for the higher wind loads found in most taller residential and commercial buildings.
The Eyewall Armor® Streamline (SL) is our cost effective residential accordion system option. While the SL Accordion is lighter and more cost effective, it still has all the same features and benefits of our 6.8 System. The SL Accordion also meets the same testing and code requirements as the 6.8 System, while carrying the same approvals and evaluations. The SL has been optimized for strength and cost efficiency for the residential market.
The Eyewall Armor® High-Rise (H.R.) Accordion System has been designed to meet the toughest testing requirements and highest wind loads available in the world. The H.R. System shares the same features as our standard 6.8/SL Accordion Systems but is engineered specifically for high-rise, hi-performance structures which require much higher wind loads than residential and even mid-rise buildings. The H.R. System is capable of spans up to 15′-6″ in height, and tested to pressures beyond 300psf, which translates to wind speeds well in excess of 300mph, significantly beyond any code in the world today. The H.R. System also meets the ultra stringent essential facilities code requirements which increases the 9-pound large missile from 50 feet per second to 80 feet per second! A 2 x 4 traveling at 80 feet per second will shoot right through a block wall!
Are you looking for more information about our products? Request a Callback!
[contact-form-7 404 "Not Found"]