Aluminum Accordion Shutters
When it comes to safeguarding your property from storms and potential intruders, nothing beats the durable and secure protection offered by our Eyewall Armor accordion shutters. Accordion Shutters are a must have, with their easy-to-use folding design, these shutters can be left up year-round and provide an essential barrier that shields your home. Don't compromise on safety—choose MaestroShield for all your hurricane needs.
Accordion Shutter Benefits
Eyewall Armor's Accordion shutters offer a range of exceptional benefits that make them the ultimate choice for protecting your property. With the only hinge that can be lubricated and an offset screw boss design for easy maintenance, these shutters ensure smooth operation and long-lasting performance. They not only add value to your property but also resist corrosion, guaranteeing their durability over time. Their minimal intrusion compared to other options and tightest stacking design make them highly convenient for any space. With comprehensive coverage for most openings, fast and simple one-step locking, and no additional locking rods required, these shutters offer unbeatable security. Additionally, you can choose from a variety of colors including white, ivory, beige, and bronze, allowing you to match your aesthetic preferences. Experience peace of mind with Eyewall Armor's Accordion shutters, combining functionality, durability, and aesthetic appeal.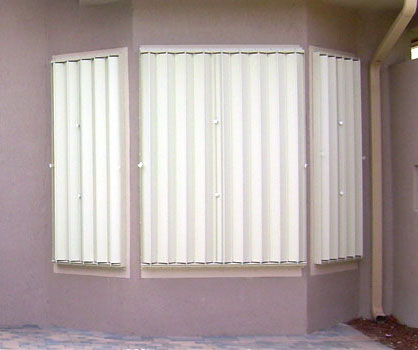 The Eyewall Armor® 6.8 Accordion sets the benchmark for accordion shutter design. Previous designs proved inefficient with limited lifespans, requiring replacement in as little as 4 years. Our accordions stand out with the offset screw boss and superior coatings, ensuring unparalleled durability and longevity in the market. The 6.8 model, categorized as "Mid-Rise," specifically caters to the elevated wind loads prevalent in taller residential and commercial structures. Choose Eyewall Armor® 6.8 Accordion for unrivaled performance and protection that exceeds industry standards.
The Eyewall Armor® Streamline (SL) presents an affordable residential accordion system option. Despite its lighter weight and cost-effectiveness, the SL Accordion retains all the remarkable features and benefits of our 6.8 System. It successfully meets the identical testing and code requirements, carrying the same approvals and evaluations as the 6.8 System. The SL Accordion has been skillfully optimized for strength and cost efficiency, specifically tailored to meet the needs of the residential market. Choose the Eyewall Armor® Streamline (SL) for a high-value solution without compromising on performance.
The Eyewall Armor® High-Rise (H.R.) Accordion System stands as the pinnacle of design, capable of meeting the most rigorous testing requirements and withstanding the highest wind loads worldwide. While sharing the same exceptional features as our standard 6.8/SL Accordion Systems, the H.R. System is specifically engineered to cater to the needs of high-rise, high-performance structures. These buildings demand wind loads surpassing those of residential and mid-rise constructions. With an impressive height span of up to 15′-6″ and testing pressures exceeding 300psf, equivalent to wind speeds well beyond 300mph, the H.R. System surpasses all existing codes worldwide. Additionally, the H.R. System meets the stringent essential facilities code requirements, elevating the large missile speed from 50 feet per second to 80 feet per second. To put it into perspective, a 2 x 4 object traveling at 80 feet per second can penetrate a block wall effortlessly. Choose the Eyewall Armor® High-Rise (H.R.) Accordion System for unparalleled protection in the face of extreme wind conditions and stringent code demands.